Welcome to the Rivers Edge Recreation Center. A focal point of our Park District that was built in 2004 to meet the ever growing needs of Belvidere and the surrounding area. Rivers Edge is a 20,000 square foot facility that houses current Park District Programs and allows us room to expand with new ideas and events. Built right into the hill overlooking the majestic Kishwaukee River and scenic Belvidere Park, the Rivers Edge has numerous recreational opportunities to meet you and your family's needs.
Rivers Edge Recreation Center has something for everyone. It is the site of our adult basketball and volleyball leagues, open gyms, indoor pickleball, martial arts, art programs, and others. Rivers Edge also has a large 35-foot indoor Rockwall and several Multipurpose rooms that are available to the public for rent.
open pickleball
Monday-Fridays 9am-12pm (starting 8/14) and Friday nights 7-9pm Drop-In Fee: $3
Purchase a Pickleball Pass that is good for one year from the date of purchase. Pass Fee: $60
Open Volleyball
Thursdays 6:15-9:15 pm open volleyball Drop-In Fee: $3
Outdoor Bocce Courts
Bocce courts located at the Rivers Edge Rec. Center. Both courts are ADA-accessible. Bocce sets are available to rent for $5 per use with valid ID. Please call ahead for availability at (815) 547-9557.
Indoor Batting Cage
Need to get a few swings in before the big game or secure a regular time in the off-season?
Reserve your dates and times now for your baseball or softball team. Reservations are on a first-come first-paid basis. Reservations must be made for a 1-hour minimum. For more details, call the Rivers Edge Recreation Center at (815) 547-9557. Fee: $50 per hour
Rivers Edge Open Gym Passes
Please contact Rivers Edge at 815-547-9557 for current prices on the following Packages:
Riverside Ice Arena at Doty Park Pass
Open Pickleball Pass
CLIMBING WALL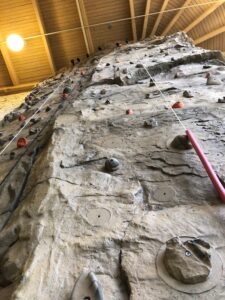 Our wall has the look and feel of real rock and has three climbing routes set to challenge all types of climbers. The automatic belay system offers a safe and fun experience for all. You must be 35 lbs to climb. All climbers are required to sign a waiver before climbing. Parent/ guardian must sign if under the age of 18. Climbing wall rentals may trump open climb times so please call ahead for wall availability (815) 547-9557.
GROUP CLIMBING PROGRAMS
Looking for a new and exciting outing for church groups, business/corporations, schools, sports teams, or Scouts? Our group experience is a unique way to build a sense of teamwork, develop new skills or just have a lot of fun. To schedule, your event contact Taylor Kuchenreuther at (815) 547-5711 x200
Drop-in fees: $3/15 minutes; $15 unlimited climb. Rental fee: $75 per hour. Accommodates up to 30 people.
RENTALS AT RIVERS EDGE
If you need a room or gym space for your special occasion, look no further than the Rivers Edge Recreation Center. We have 4 different multi-purpose rooms, a service kitchen and an air-conditioned gymnasium. Each multi-purpose room holds a maximum of 48 people or combine two rooms for 96 people. Tables and chairs are provided. For more information to rent for your special day, call (815) 547-9557. All COVID policies and regulations will be followed. Renter is required to wipe down chairs, tables and counters. Tables and chairs must be properly stored. Garbage must be in cans, floors swept and all decorations removed. *Set Up / Take Down Fee – ($25.00) Staff will set up tables and chairs as pre-requested by renter. The renter must place all garbage in cans and remove all decorations. Staff will clean and store tables and chairs, sweep, mop the floors and empty garbage cans.
| Rivers Edge Room Rentals | Capacity | Hourly Rate | Set Up Fee |
| --- | --- | --- | --- |
| Multipurpose Room With Kitchen | 1-48 | $50 | $25 |
| Multipurpose Room Without Kitchen | 1-48 | $40 | $25 |
| Rooms A&B Combined | 96 Max | $75 | $25 |
| Half Gym | NA | $50 | NA |
| Full Gym | NA | $80 | NA |